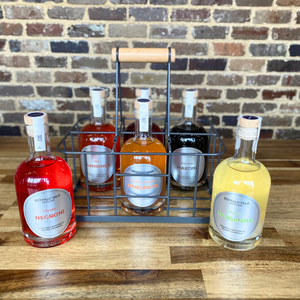 Luxury Cocktail Crate by BVD
Sale price Price $264.00 Regular price $290.00
Embracing the charm of traditional delivery services with a contemporary flair,
Buffalo Vale Distillery proudly presents its exclusive offering for local members:
the

Luxury Cocktail Crate

service.
Reminiscent of the nostalgic "milkman service," we've reimagined the experience to bring the sophisticated tastes of Buffalo Vale's signature cocktails directly to your home.
Explore a world of exquisite flavours with our cocktail selections, each crafted to delight diverse palates. Visit buffalovale.com to uncover the richness and quality that define each drink in our collection.

Your first crate avails a saving of up to 12%  on regular cocktail prices. 
Opt for a subscription and enjoy saving of up to 20% off recurring orders.
Returning your bottles to our cellar door extends your discount up to 25% on your refills.
Choose from monthly, bi-monthly, quarterly, or half-yearly refill plans and keep the celebration going!
Use the drop down menu's to the left to select the 2 cocktails you would like in the first two space within the crate.  Then select from the list the next 2 cocktails you would like.   Then finally the last 2 cocktails you would like in the crate.