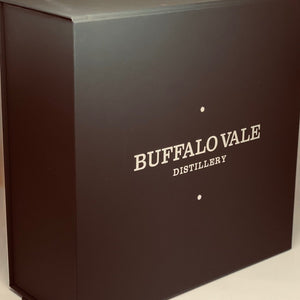 Buffalo Vale Distillery - Craft Spirit & Crystal Tumbler Pack
Sale price Price $159.00 Regular price
Looking for a gift that is just that little bit more than just a bottle of your favourite spirit to share with a close friend, family member or colleague?
Our new Crystal Tumbler spirit gift pack includes the necessities for a quiet tasting of the Buffalo Vale artisan spirits.
Each gift pack includes a recipe card which includes a description of each of the spirts and our favourite ways to drink your Buffalo Vale Spirits.  

Free local delivery! 

Create your Gift Box* by - 
Choose a spirit (700ml) - 

Clair De Lune | Gin

Nocturne | Vodka 

Revenant | Spirit

Select a mixer (700ml)- 

Capi Dry Tonic

Capi Soda water

Includes 2 Crystal Tumblers from Nactmann (a Riedel Company) 

Tasting Card 
More about the spirits...
Claire De Lune | Gin
A handmade, small batch gin, crafted from scratch on our own base spirit. Clair De Lune is soda-friendly and exceptionally smooth.
Nose: Distinctively round and juniper-forward, with native pepper berry, bergamot and nettle providing a backdrop for a complex spice and floral bouquet.
Taste: Sweet, musky notes develop into spicy pepper and subtle lemon flavours.
Revenant | Spirit
Revenant is a dark, characterful, golden-copper coloured spirit which has been crafted using whisky methods. The flavour profile is derived from a single Australian native botanical. Revenant is best experienced sipped neat or on ice.
 Nose: Honey toast and fig
 Taste: Mouth filling notes of dark chocolate on a tannic, slightly smokey backbone.
Nocturne | Vodka
Unfiltered, small batch, pure vodka.
Inspired by traditional distilling methods, we start with the purest of water then only add what we need to create a smooth and characterful spirit. What you taste in your bottle is what we taste as it comes from the still.
Nose: Clean with a hint of brioche
Taste: Clean and smooth, with a soft slightly sweet finish.
 * Gift Boxes may be Black or Blue depending on stock availability