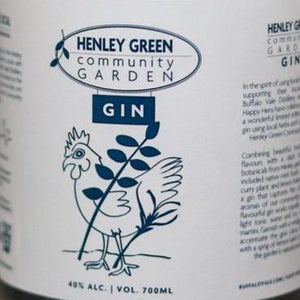 Henley Green Community Garden Spring Botanicals | Gin
Sale price Price $75.00 Regular price
In the spirit of using local ingredients and supporting our local community, Buffalo Vale Distillery and Gladesville Happy Hens have collaborated to create a wonderful limited edition small batch gin using local herbs and citrus from the Henley Green Community Garden.
Combining beautiful traditional citrus flavours with a dash of distinctive botanicals from Henley garden. 
Batch 6 -  Spring
Avid supporters of the Henley project will notice yet another flavour twist in our Gin journey, as we follow the seasons and the changes in the botanicals within the Henley garden.  
With the arrival of Spring, our Henley botanicals were picked at dawn as the warmer nights began to arrive.
The Spring gin retains the core botanicals of lemongrass, native mint bush, and lemon balm, with the addition of kaffir lime, tarragon, coriander, and lisbon lemon.
Serve with a Mediterranean tonic, a twist of lime, and plenty of ice.
SUPPORT LOCAL - HAPPYHENS.ORG.AU
Proceeds from the sales of this gin go to the Henley Green Community Garden to assist with their running costs. 
Henley Green Community Garden | Gin
Volume | 700ml
Alcohol | 40%