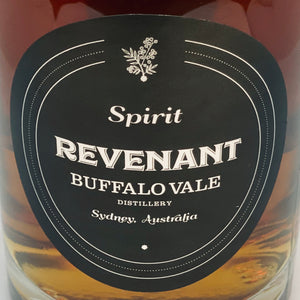 Revenant | Spirit
Sale price Price $75.00 Regular price
If you set out to make a matured single malt spirit using only Australian native botanicals, what would you use, and what flavour would you get?
We now have an answer.
From a single native botanical we have created a spirit that we call Revenant.
Soft, smooth, warm, and with Buffalo Vale's signature purity of flavour, Revenant is dark and characterful.
In the glass, the golden copper colour spirit produces an aroma of honey toast and fig. Sipped neat, there are gentle but mouth-filling notes of dark chocolate, on a tannic, slightly smoky backbone.
All of this, carefully crafted using only one Australian native botanical.
The round, bold and approachable flavours also allow for a prominent place in cocktails such as Manhattan, Espresso Martini, or White Russian.
Tasting notes
Colour: Copper Colour
Nose: Honey Toast and Fig
Taste: Dark Chocolate, slightly smokey. 
Finish: A long smooth and soft finish.
Revenant
Volume | 500ml
Alcohol | 35%
*** We all know what a wattle tree looks like right? Have you ever seen a wattle seed?  Now stop to consider the effort that goes into collecting enough wattle seeds to make up 1kg... It takes a lot of patience...