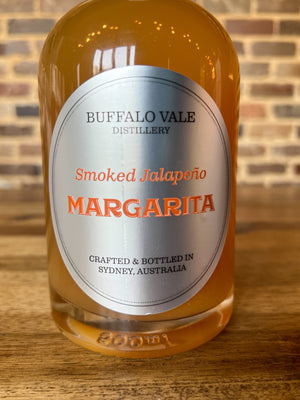 Smoked Jalapeño Margarita | Bottled Cocktails by BVD
Sale price Price $45.00 Regular price
Smoked Jalapeño Margarita - Shake on Ice
A perfect blend of smokey, savoury and spicy our Smoked Marg will elevate your margarita game! Trust us when we say you won't be able to stop at just one. 
The Buffalo Vale Smoked Jalapeño Margarita is handcrafted from our award-winning Clair De Lune Gin and our delicious Smoked Jalapeño style all-natural margarita mix. 
A margarita not made on Tequila and made on Gin can still be called a Margarita!
Add lime and salt to the rim of the glass to garnish. Add 100ml of mix to a cocktail shaker with ice. Shake briskly, pour into a cocktail glass, garnish with dehydrated citrus, and enjoy!
Smoked Jalapeño Margarita
Volume | 500ml
Alcohol | 16%
Standard Drinks | 7
Recommended Serve | 100ml = 1.3 Standard Drinks