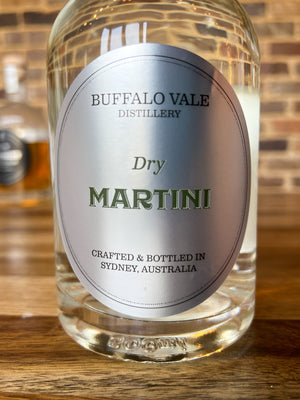 Dry Martini | Bottled Cocktail by BVD
Sale price Price $55.00 Regular price
Dry Martini - Stir on Ice

Buffalo Vale Distillery's Dry Martini is hand-crafted from our award-winning Clair De Lune Gin and a dash of our own aged dry vermouth.
Add 100ml of Dry Martini mix to a cocktail shaker with ice, and stir for 20 seconds. Pour into a cocktail glass, garnish with pitted olives and enjoy!
Add a toothpick or shortened skewer with three pitted olives as a garnish. 
Dry Martini

Volume | 500ml
Alcohol | 25%
Standard Drinks | 9.88
Recommended Serve | 100ml =  1.98  Standard Drinks - 5 Serves per bottle