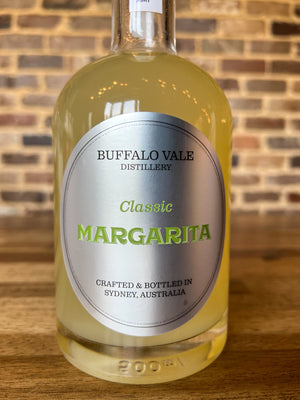 Classic Margarita on Gin | Bottled Cocktails by BVD
Sale price Price $45.00 Regular price
Gin Margarita - Shake on Ice
The Buffalo Vale Gin Margarita is handcrafted from our award-winning Clair De Lune Gin and our delicious classic-style Margarita mix. 
A Margarita not made on Tequila and made on Gin can still be called a Margarita!
Add 100ml of mix to a cocktail shaker with ice. Shake briskly then pour into a cocktail glass Add lime and salt to the rim of the glass to garnish, and enjoy!
Margarita
Volume | 500ml
Alcohol | 16%
Standard Drinks | 6.32
Recommended Serve | 100ml = 1.26 Standard Drinks
Ingredients | lime juice, gin, filtered water, agave nectar, citrus rind, extract & oil (lime, lemon, orange mandarine, grapefruit), sea salt