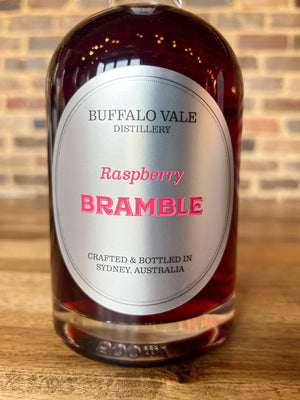 Raspberry Bramble | Bottled Cocktail By BVD
Sale price Price $45.00 Regular price
Raspberry Bramble - Shake on Ice
The Bramble originated in 1980s London and was created by Dick Bradsell. It is best described as a spring cocktail, but we think it is perfect all year round! Bringing together a delicious combo of citrusy lime, sweet sugar and tart black raspberries this is the perfect cocktail for those who enjoy the sweeter side of life. 
Buffalo Vale Distillery's Raspberry Bramble is hand-crafted from our award-winning Clair De Lune Gin, Korean dark raspberry soju, and fresh lime juice.
Buy a bottle, add 100ml of Raspberry Bramble mix to a cocktail shaker with ice, shake briskly, pour into a glass, garnish with lime or lemon and enjoy!
Raspberry Bramble

Volume | 500ml
Alcohol | 16%
Standard Drinks | 7
Recommended Serve | 100ml = 1.3 Standard Drinks