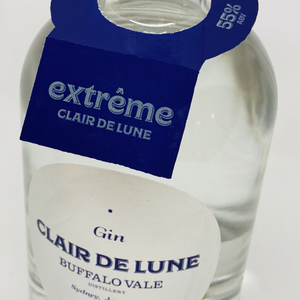 Clair De Lune Extreme | Gin
Sale price Price $98.00 Regular price
Clair De Lune Extreme is our handmade, small batch over proof gin; a pleasant but strong blend at 55% alcohol. 
 Like Clair De Lune, it is soda-friendly, with an air of organic juniper, locally grown wild bergamot, nigella, lemon balm, tangerine, nettle and angelica, hovering over a spirit of exceptional smoothness.  Its now become our favourite! 
Tasting notes
Colour: Clear

Nose: Distinctively round, warm and juniper-forward, with native pepperberry, bergamot and nettle providing a backdrop for a complex spice and floral bouquet.

Taste: Characteristic sweet, musky notes. Develops into spicy, peppery, and subtle lemon and tangerine flavours.

Finish: A long smooth and soft finish.
Clair De Lune
Volume | 700ml
Alcohol | 55%