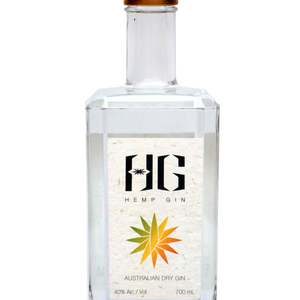 Hemp Gin | Buffalo Vale Partner
Sale price Price $85.00 Regular price
HG Hemp Gin is a small batch gin produced in the 'Australian Dry Gin style'. As the name suggests, hemp has been combined with juniper and a variety of locally sourced botanicals to produce a very different savoury-style gin, with a a flavour that sustains on the palate long after the first crisp sip.

Hemp (Cannabis Sativa) contains minimal levels of THC (Tetrahydrocannabinol), this is the stuff that has psychoactive properties which will make you 'High'. However Hemp Gin has non-detectable levels, but you may still get tipsy. Hemp seeds are high in protein and have high levels of omega 3, 6 and 9 and are know to be a super-food.

Being a savoury style Gin it lends itself to be consumed, on ice, with soda or with tonic, or as the basis of a cocktail.

Check out Hemp Gin at www.hempgin.com.au or follow on Instagram @hempgin. Otherwise, head straight to our store and order a bottle today.