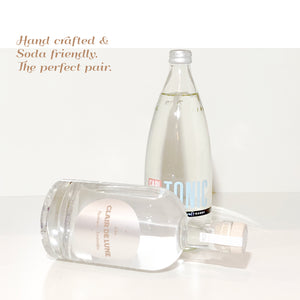 Clair De Lune | Gin & Capi Dry Tonic
Sale price Price $79.00 Regular price
Try Clair De Lune with our preferred tonic – Capi Dry Tonic.
The Buffalo Vale team blind tasted our Clair De Lune Gin with seven different tonics, resulting in the choice of the Capi Dry Tonic which we include in this pack.
The Capi Dry Tonic enhances the flavour of Clair De Lune without over powering, and is low in sugar for those who are watching their calories.
Pack Contains:
1 x Clair De Lune – Small Batch Gin
Volume | 700ml
Alcohol | 40%
1 x 750ml Bottles of  CAPI Dry tonic water 
Clair De Lune is a  handmade, small batch gin which is soda-friendly, with an air of organic juniper, locally grown wild bergamot, nigella, lemon balm, tangerine, nettle and angelica, hovering over a spirit of exceptional smoothness.
Tasting notes
Colour: Clear

Nose: Distinctively round, warm and juniper-forward, with native pepperberry, bergamot and nettle providing a backdrop for a complex spice and floral bouquet.

Taste: Characteristic sweet, musky notes. Develops into spicy, peppery, and subtle lemon and tangerine flavours.

Finish: A long smooth and soft finish.
Clair De Lune
Volume | 700ml
Alcohol | 40%