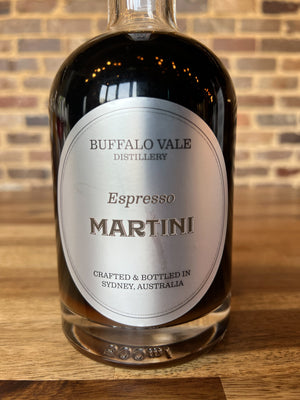 Espresso Martini | Bottled Cocktail by BVD
Sale price Price $45.00 Regular price
Espresso Martini - Shake on Ice
The famous Espresso Martini is a top drink and a classic cocktail. Invented by the famous late bartender Dick Bradsell. The Espresso Martini is a cocktail with a story, a history and a legacy. 
Our Espresso Martini is hand-crafted from our award-winning Clair De Lune Gin, equal parts cold-brewed arabica coffee beans and a tiny dash of sugar to sweeten. We love a cocktail with a kick!
An Espresso Martini made on Gin is still an Espresso Martini! 
Add a 100ml of Espresso Martini mix to a cocktail shaker with ice. Shake briskly, pour into a cocktail glass, add coffee beans to garnish, and enjoy.
Espresso Martini
Volume | 500ml
Alcohol | 16%
Standard Drinks | 6.3
Recommended Serve | 100ml = 1.42 Standard Drinks