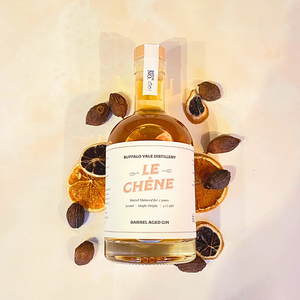 Le Chêne | Barrel Aged Gin
Sale price Price $85.00 Regular price
Each bottle of our barrel aged gin is distilled, aged, and bottled by hand on site in our family distillery in Rhodes.

Le Chêne is a warm, rounded gin with both the colour and aroma of honey. The woody botanicals have imparted a bouquet of aromas and flavours, with notes of lavender, apricot, angelica and cardamom. The lingering finish provided by toasted vanillin oak completes a mouth-filling experience.
Le Chêne is made using our own sugar wash and winemaking fermentation process. After distilling using autumnal botanicals including cassia, cardamom, and tangerine, we age on-site for a minimum of two years in new dark American oak barrels to produce a spirit that is bold, rich, and lingering.
Volume | 500 ml

Alcohol | 42%