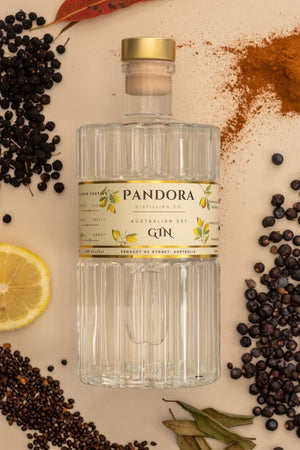 Pandora Australia Dry Gin | Buffalo Vale Partner
Sale price Price $89.00 Regular price
Handcrafted and manufactured here in Sydney. Pandora Gin is a one of a kind gin ready to brighten up your collection with its beautiful glass bottle AND the perfect flavours to enjoy all year round!
Pandora's Australian Dry Gin is vapour infused with eight botanicals: Pepper Berry, Bush Lemon, Juniper, Lemon Myrtle, Australian Wattle-seed, Red Eucalyptus, Cinnamon and Angelica Root.
Aromas of citrus tickle the nose first, the palate carries notes of mint, citrus and a hint of spice with the finish slightly sweet and soft.
Pandora lends itself to be consumed, on ice, with soda or with tonic, or as the basis of a cocktail.
Check out Pandora Distilling Co. at https://pandoradistillingco.com or follow on Instagram @pandora_distillingco. Otherwise, head straight to our store and order a bottle today.